Over 60 library directors and trustees gathered together on 9/18 at the Westchester Library System (WLS) Headquarters for a Breakfast to thank our New York State Legislators for their support in adding back money to the FY2014-2015 Executive Budget for Library Aid and maintaining the $14 Million Public Library Construction Aid Program.
Nine legislative offices were represented as follows: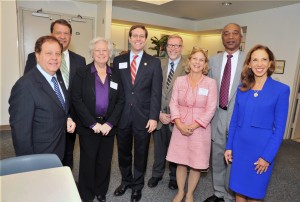 John Tomlin from Andrea Stewart-Cousins' office [35th Senate District]
George Latimer [37th Senate District]
Amy Paulin [88th Assembly District]
Kevin Czerwinski from Amy Paulin's office [88th Assembly District]
J. Gary Pretlow [89th Assembly District]
Shelley Mayer [90th Assembly District]
Debra Lagapa from Steven Otis' Office [91st Assembly District]
Thomas Abinanti [92nd Assembly District]
Elisa Jacobs from Thomas Abinanti's office [92nd Assembly District]
David Buchwald [93rd Assembly District]
Sandra Galef [95th Assembly District]
Pat Braja, Director of Development, welcomed everyone for vacationing Executive Director Terry Kirchner, and talked about the important role that WLS plays as one of the 23 public library systems established in 1958 by State Education Law.
By providing services out of one location, versus each of the 38 libraries in Westchester having to provide these services individually, taxpayers save money.  WLS empowers libraries through services that include:   maintenance of the online library system; cataloging; Interlibrary Loan; delivery; professional development; and consultation services.  Library systems are a good investment.  In fact, studies have shown that for each $1 invested, a return of $13 in services is gained.
A portion of Library Aid also goes to outreach for persons who may be unserved or underserved.  Elena Falcone, Director of WLS's Public Innovation and Engagement (PIE), spoke of some of the unique programs helping to meet these needs including:
Senior Benefit Information Center (SBIC)
TASC Connect!  — New name for the Graduate Equivalency Diploma (GED) that stands for Test Assessing Secondary Completion.
Cindy Rubino, President of the Public Library Directors Association (PLDA), focused on the State Aid received through the NYS Construction Grant Program.  Libraries have transformed into true centers of our communities; and library buildings also need to be renovated to meet new demands or simply to be updated with much-needed infrastructure projects.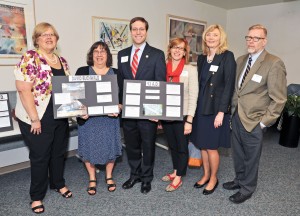 Originally, NYS included in its budget only $800,000 for the entire State for Construction Grant money [Westchester's portion was less than $34,000].  In 2006, this program was expanded to $14 Million, with Westchester getting approximately $654,000 (based on population).  Libraries can submit applications for their eligible construction grants and potentially receive up to 75% of the total project costs.  Over $5 Million has been awarded to over 90 library construction projects since this program's inception; and posters were displayed for each Legislative District with that district's construction project awards received.
However, costs keep rising.  While the additional money put back into the budget brought Library Aid to a total of $86.6 Million [Westchester's portion is approximately $2 Million], this amount still does not equal what is prescribed by Education Law–and the $14 Million for Public Library Construction has remained the same for 8 years.
The Legislators wrapped up the event by sharing their appreciation for the services that libraries have provided through such challenging times over the past years, with minimal resources.  Many are themselves avid library users and have a good understanding of how libraries can change the lives of their constituents; and they will continue, as they are able, in their efforts to support library programs in Westchester.