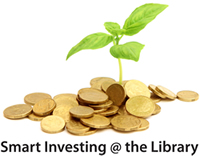 An online training course, Smart Investing: Reference Strategies and Resources, is available at no cost to librarians and other individuals looking to improve their reference strategies and knowledge of financial literacy concepts and resources. The course aims to promote confidence and competence in responding to library patrons' questions on personal finance and investment. Completion of this course will result in a better understanding of the language and concepts in a variety of financial areas, including:
Personal financial planning and budgeting
Banking and banking products
Basics of investment
Investing in stocks, bonds (corporate and government), and mutual funds
Evaluating stocks using company and industry information
Mortgages, short sales, first-time home buying, and real estate as an investment
Retirement accounts, including IRAs and 401(k)s
A special thanks to the Santa Clara County Library District (SCCLD) reference staff and their partner, Infopeople, for making this stand-alone, self-paced course available to the library profession.