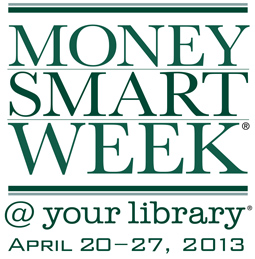 Your library can be part of 'Money Smart Week @ your library,' a national initiative of the American Library Association (ALA) and the Federal Reserve Bank (Chicago) to provide financial literacy programming to libraries in an effort to empower libraries, and help community members better manage their personal finances.
All types of libraries are invited to participate by developing programming for individuals of all ages and all stages of life. Library programs can focus on a broad range of topics such as:
basic budgeting
managing student debt
retirement planning
home purchasing
saving money through couponing
how to prevent identity theft
Register for the webinar on October 18th to learn how to participate in 'Money Smart Week @ your library' on April 20-27, 2013.