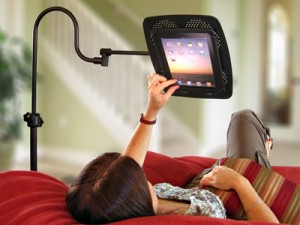 Tablet computer floor stand
And the "Why Didn't We Think of That?" award goes to adjustable floor stands that hold iPads, e-readers and other tablet computers hands-free. Set it up anywhere – near the couch, beside the bed, in the kitchen for reading recipes – and this clever device will hold its own. Available at Sharper Image.
Practical gadgets: iPlunge
This looks like a gimmicky joke, but it's actually a supremely practical way to accomplish something we all sometimes need to do – prop up our smartphones. This extremely affordable (and utterly inventive) thingamajig goes under the heading – "the gift for someone who has everything." It makes a great stocking stuffer! Available at Amazon.
– Kate Meyer, Director of External Relations