Westchester Library System's Manager of Cataloging Services, Douglas Wray, has been keeping up with reading during New York State PAUSE. He has quite a few good suggestions for your next read. All titles are available in our catalog.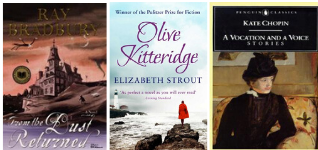 From the Dust Returned by Ray Bradbury New York : William Morrow, 2001. The great fantasy/science fiction writer's final work about a mysteriously supernatural family, the Elliotts. Described by one critic as "'The Addams Family' and 'The Munsters', as written by a literary master." Available on Hoopla.
Olive Kitteridge by Elizabeth Strout New York : Random House, 2008. Interwoven stories about a small Maine town, the common thread being a cantankerous, retired schoolteacher. Available on OverDrive.
A Vocation and a Voice : Stories by Kate Chopin New York : Penguin Books, 1991. A collection of 23 stories by the innovative late-19th century writer. Several were sufficiently ahead of their time to be rejected and not published until much later. Available on OverDrive.
The Souls of Animals by Gary A. Kowalski Walpole, NH : Stillpoint, 1991. The author, a Unitarian Universalist minister, argues that non-human animals are not inanimate objects devoid of feeling and intellect but thinking, sentient individuals with a spiritual life. Available on Hoopla.
O Pioneers! by Willa Cather New York : Penguin Books, 1989. The author drew upon her own life to create this famous novel about settlers in 19th century Nebraska. First published in 1913. Available on Hoopla.
—