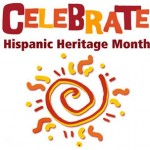 During National Hispanic Heritage Month (September 15 to October 15) we recognize the contributions made and the important presence of Hispanic and Latino Americans to the United States and celebrate the group's heritage and culture. Hispanics have had a profound and positive influence on our country through their strong commitment to family, faith, hard work, and service. They have enhanced and shaped our national character with centuries-old traditions that reflect the multiethnic and multicultural customs of their community.
Hispanic Heritage Month, whose roots go back to 1968, begins each year on September 15, the anniversary of independence of five Latin American countries: Costa Rica, El Salvador, Guatemala, Honduras and Nicaragua. Mexico, Chile and Belize also celebrate their independence days during this period and Columbus Day (Día de la Raza) is October 12.
Check out just some of the programs being offered at Westchester libraries (below). For a complete list of local libraries, click here.
Grand Market Fiesta
Saturday, September 14, 11:00 – 1:00 pm, Library Green (If rain, in library)
Warming-up for Mexican Independence Day, the BID Family Market Day will take on sounds and tastes from South of the Border. Families can enjoy live performances of regional music and dance by Mazarte Dance Company, sample tastes from downtown Mexican restaurants, make miniature piñatas and colorful tiles to take home, AND visit the many other Grand Market vendors. BID Family Days Go Global for New Rochelle's 325th Anniversary! BID Family Days are made possible by a partnership with the New Rochelle Downtown Business Improvement District (BID) in conjunction with the Library, City School District and Parks & Recreation.
Thursday, September 19, 7:00 pm
International Film: Sangre de mi Sangre (Blood of My Blood)
Also known as Padre Nuestro (Our Father), this 2007 Argentinean-American thriller film relates the story of Diego, a young Mexican boy who smuggles himself to Brooklyn to meet his long-lost father, but whose identity is stolen by an impostor. The film was written and directed by Christopher Zalla, and stars Jesús Ochoa, Armando Hernández, Jorge Adrián Espíndola, and Paola Mendoza. In English and Spanish, with English subtitles; 110 minutes. Ossie Davis Theater. Free.
Thursday, September 26, 7:00 pm
Film: A Better Life
The 2011 drama directed by Chris Weitz stars Demián Bichir as Carlos Galindo, who always dreamed of a better life for his wife and newborn son when he crossed the border into the US.  But when his wife left him, Carlos's only goal became to make sure his son Luis was given the opportunities he never had.  In English; 97 minutes.  Ossie Davis Theater. Free.
Thursday, October 3, 7:00 pm
Documentary: Maid in America
As three of the thousands of Latina immigrants working as nannies and housekeepers in Los Angeles, Judith, Telma, and Eva have all left family and friends behind to come to America. Maid in America reveals the challenges these women face as they pursue the American Dream, their significant roles in American households, and the globalization of motherhood. The  award-winning documentary was directed by Anayansi Prado was screened nationally on the PBS Independent Lens series (2005-06).  In English; 58 minutes. Ossie Davis Theater. Free.
October 30 – November 6     
Day of the Dead Exhibit
The sixth annual Day of the Dead observance presented by Calaveras y Diablitos artists will feature a two-story high  Tree of Life with  an ofrenda, elaborate papier-mâché figures, tissue cut-outs and other traditional symbols of this ancient tradition celebrating late loved ones. Lumen Winter Gallery, during regular library hours.
Friday, November 1st, 3:30 – 4:50 pm: Family Craft Workshop
Saturday, November 2nd, 5:30 – 7:30 pm: Day of the Dead Performances and Reception
Saturday, September 21, 2013
Hispanic Heritage Celebration: Little Red Riding Hood
This is not the classic Tale of Little Red Riding Hood. Come see the classic twist in this free bilingual play with music for the whole family! Lite refreshments and free books for children.
Saturday, October 5, 2013 2:00 – 4:00 pm
Hispanic Heritage Celebration
All ages are welcome to join them for a free fun-filled event that includes Zumba, traditional Peruvian dancing and food from local restaurants.