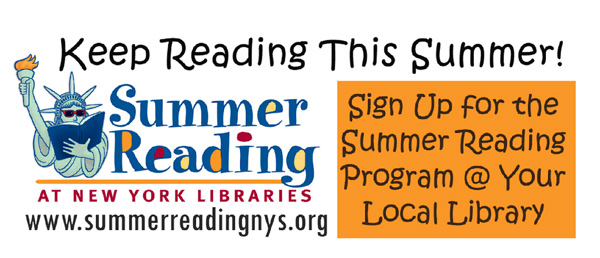 Summer program encourages youth to think, dream and explore through reading
As the school year winds down, young people can look forward to a summer of fun at their local library. Westchester's 38 libraries are getting ready to launch their annual Summer Reading programs, an opportunity for young readers to experience the joy of discovery through reading.
Libraries will kick off 2013 Summer Reading with exciting programs and events like song and dance performances, magic workshops, craft sessions, science and nature projects, and storytelling. Youth services librarians will be available to engage young readers in facts as well as fiction through books and programs that are just right for them. In the mix are incentives, prizes, and certificates to inspire program participants to include reading in their summer activities.
Summer Reading programming reflects a statewide commitment of local libraries to the enrichment of youth.  By offering inviting programs and diverse reading experiences, public libraries counteract the "summer slide", cited by researchers as the equivalent of a loss of a month of instruction over the summer break.  Don't fall behind!  Jump ahead into programs that teach critical thinking skills, foster creativity, and strengthen every young person's ability to be an independent learner.
"Libraries are the 'Un School' – no homework, no tests – but every opportunity to for children and teens to explore what uniquely inspires them to know more. Librarians around the county plan for months – and the end result is a uniquely-library blend of literacy and inquiry and flat-out fun" says Elena Falcone, WLS Director of the Office of Community Connections.
Programs this year are full of stories you never heard before and people eager to tell them.  Participants will have all kinds of opportunities to carry the fun of a story off the page and into crafts, performance, and more. Maybe that's why attendance at last year's programs topped 84,000 across the county.
Programs at many of the county's public libraries reflect this year's statewide themes – Dig into Reading and Beneath the Surface.  Look for how these themes are expressed in a library near you; you'll encounter every variety of "digging" – from pirate and archeological adventures (maps, buried bones and treasures, arrgh!) to garden crafts and worms (a popular theme for books, movies … and candy treats).  Through discussions and workshops, teens are invited to go "beneath the surface" of books, films, and topics as diverse as cars, comics, and computers.
Programs typically begin in late June and continue through mid-to-late August. For additional information, please visit your local public library's website. You can access a listing here. To access a flyer for publicity, click here.
Summer Reading in New York Libraries is supported by the NY State Library System.  Find out more at www.summerreadingnys.org.