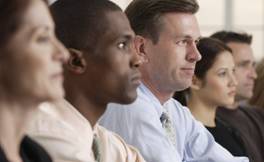 WEBS Career and Educational Counseling Service will be offering two types of free eight-week career counseling and life planning programs in public libraries throughout the County this winter. WEBS is sponsored by the Westchester Library System.
The first type of program is called a Managing Your Career in Changing Times. It will help adults assess themselves, explore career options, obtain career and educational information, find out about the latest trends in resumes and job search, and develop a career plan.  The program is geared to those who are unemployed, changing careers, reentering the workforce or returning to school. The seminar will be offered at three public libraries: Town of Pelham Public Library on Tuesday evenings, Greenburgh Public Library on Wednesday afternoons and Somers Library on Wednesday mornings. All programs will start in early March.
The second type of program is called Take Charge! Career/Life Planning After 50.  Its purpose is to help adults over 50 assess themselves and plan a direction for the next stage of life.  Options that will be considered include part/time or full/time work, volunteerism, entrepreneurial ventures, and learning and leisure opportunities. These programs will be offered at the Chappaqua Public Library on Tuesday mornings and the Yonkers Public Library (Will Branch) on Thursday afternoons. Both programs are nineteen-hour seminars consisting of an orientation session, eight weekly group sessions and one individual session with a career counselor. They will begin early March.
Individuals can find out about exact dates and times and register for a seminar by calling WEBS at 674-3612 on or after January 11, 2016.