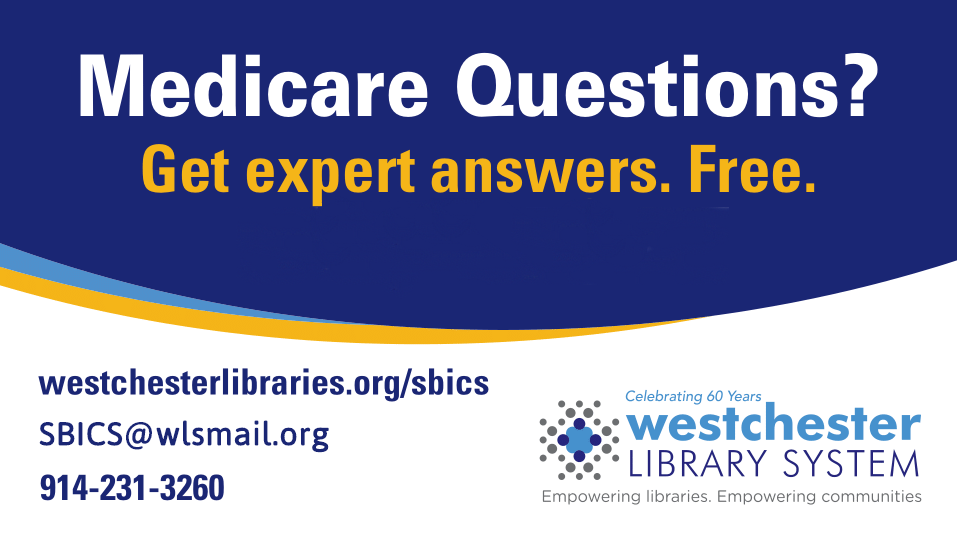 Medicare, a program that has grown and evolved overtime, has always been a challenge to fully understand, but in the current era of uncertainty and day-by-day changes, keeping up can feel impossible. The good news is that there are sources you can use to find up-to-date information and assistance from home.
Senior Benefits Individual Counseling
Before the PAUSE order, a number of our libraries were home to weekly drop-in Medicare counseling sites. Patrons could come in, ask questions about Medicare, compare various plans, and hopefully leave with an idea of how to get the most bang for their buck out of their coverage. These Senior Benefits Individual Counseling (SBIC) sites are an example of a volunteer-led State Health Insurance Assistance Program (SHIP). Volunteer counselors at the SBICs – fellow seniors from around Westchester – provide Medicare information without the need to push a certain plan or style of Medicare over another. Another strength of the SBIC program is finding referrals to local services and supports. Volunteers are acquainted with county organizations that serve seniors whether they are looking for legal help, financial aid, social support, and so much more.
Drop-in counseling will remain closed until we can assure a level of safety for our volunteers and the clients they serve, but there is still a way to access SBIC counseling. The SBIC Helpline continues to provide remote support for those in need of Medicare information. The Helpline can be reached by calling 914-231-3260 or by emailing SBICS@wlsmail.org. Volunteer coordinators monitor the helpline seven days a week; leave a name, question, and preferred contact method and counselors will get you pointed in the right direction.
Department of Senior Programs and Services
The Westchester County Department of Senior Programs and Services (DSPS) has remained just as active, if not more active, since things started to close down. DSPS maintains two helplines to help seniors connect to needed services, especially important in a time where so many of our seniors are at risk of going unheard.
DSPS maintains their own Medicare Information Line at 914-813-6300, where county employees can assist you in navigating applications for Medicare. This resource is especially important for seniors who do not have their own computer or internet access, as DSPS staff will work with you over the phone to fill out an online Medicare application.
Westchester residents can also call the General Helpline, 914-813-6300, or the Elder Abuse Helpline, 914-813-6436, to be connected with non-Medicare information and services they are seeking.
Medicare.gov, Medicare Rights Center, Center for Medicare Advocacy
There are other places to find current information on Medicare:
Medicare.gov offers information about COVID-19 and what Medicare can cover.
Medicare Rights Center has also been keeping an updated blog post of Medicare-covered services related to coronavirus, and how to access those services under current circumstances.
Center for Medicare Advocacy provides information on how both Medicare and Medicaid are attempting to address the pandemic.
These sources are rich with information which can make them difficult to understand. If you need help understanding any of the information you find, please don't hesitate to reach out the the SBIC and DSPS helplines.
For more information on anything mentioned in this blog post, or to find out more about the SBIC sites, email Krishna Horrigan, WLS Outreach, at khorrigan@wlsmail.org.