When someone thinks you are stressed and tells you to take a breath…..what if you could do it in a way that resulted in an actual reset? You can! Training is available free through Westchester Library System. Plus, if it works for you, we're hoping you'll be motivated to teach it to others! Read on to find out more.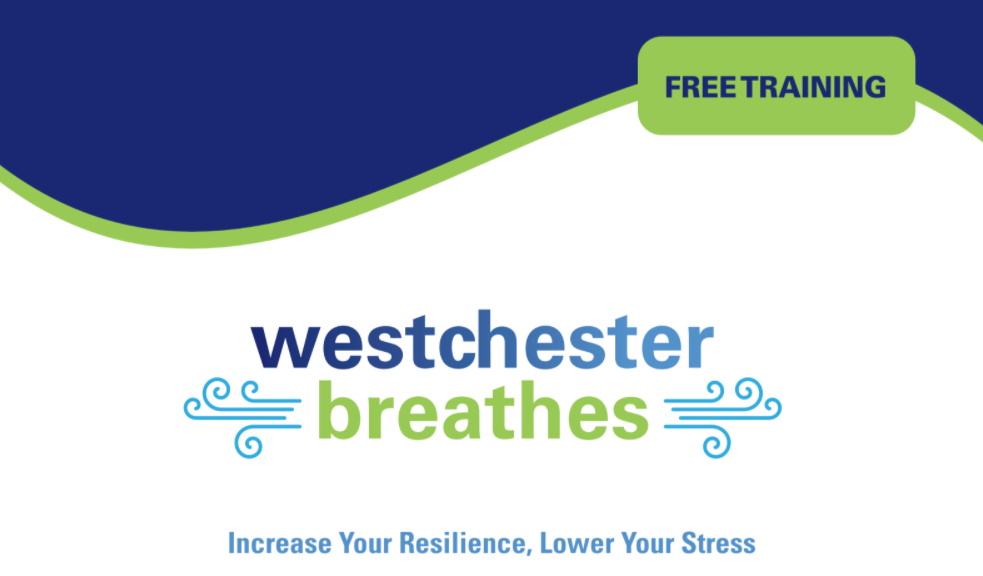 When your level of stress and anxiety are high, think of how that feels. The body feels tight, constrained. Breathing can be rapid, shallow. And it can be hard to think clearly or feel at ease. And now for that good news. Because our brain listens to our lungs (yay biology!), there is something we can do to feel better – right now.

When we regulate our breathing, our hard-wired stress response systems – fight, flight, freeze – back off, and the internal systems that allow us to sooth and self-heal are able to function better. Biologically, we're bringing our systems in balance – our vagal nerves, which link signals from brain to gut, and our sympathetic and parasympathetic nervous systems re-balance. Everything can then work better, from heart rate to immune response.

Enter BREATH-BODY-MIND™ – a program of gentle movement, breathing and relaxation exercises that have been proven to reduce the experience of stress and anxiety and increase the sense of calm and well being. The exercises are simple and evidence-based in their positive impact on an array of populations – children, adults, those with depression or PTSD, just to name a few groups.
Westchester Library System (WLS) became aware of BREATH-BODY-MIND™ as a result of working with the Westchester Resilience Coalition. The Coalition acts to educate individuals, organizations, and communities about the impact of trauma on child development and adult health. Just in the last two years, more than 4,000 people have engaged with the Coalition through screenings of the documentary, RESILIENCE: The Biology of Stress and the Science of Hope. The conversations that followed made clear the burden of trauma and stress, and the need for accessible tools to heal.
WLS was able to gain funding from private funders and from NYS Grant-in-Aid to make BREATH-BODY-MIND™ instruction available locally. Our aim is to build capacity in organizations and communities for ongoing instruction and skill that can support individuals and systems in managing stress.
We started promoting BREATH-BODY-MIND™ in Westchester in October 2019. We're glad we had that start because it seems especially important to make this available in the midst of a pandemic that has upended so many in so many ways.
So how can you learn about BREATH-BODY-MIND™ in a world of social distancing? At your virtual library!
There are practice sessions, workshops, and training events available online via Zoom, a free video conferencing application accessible by computer and mobile device. A number of programs are scheduled now through the end of July. These include weekly 45 minute practice sessions (no prior experience required) and – for Westchester healthcare and social service providers – a two-day Introductory Workshop and five-day Level 1 Teacher Training. (For the workshop and training, the cost is an especially modest $25-$50 for multi-day programs thanks to a NYS Grant-in-Aid from the Honorable Andrea Stewart-Cousins.) Key events are being taught by the BREATH-BODY-MIND™ founders and internationally acclaimed experts, Dr. Richard Brown and Dr. Patricia Gerbarg.
Go to https://conversations.westchesterlibraries.org/breath-body-mind/. Have questions? Let us know at outreach@wlsmail.org.