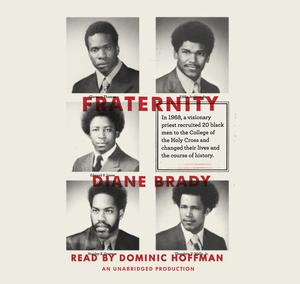 For those of us who came of age in the 60's and 70's, it was a decade that marked the beginning of epic shifts that would change our personal lives, our nation and the world. It was a time marked by social change and war that few understood. The counter culture and social revolution gave rise to protest, both violent and peaceful. We marched for racial and social justice. We cried for Bobby, Martin and John. We watched in horror as college students, much like us, were shot down at Kent State. We ended each night in rage over the gruesome images from Vietnam on the 11 o'clock news. As a suburban teenager growing up in a working class neighborhood on Long Island, I sang along to Janis Ian's Society's Child with all the heartfelt emotion of my teenage angst and parental defiance.
It's through the lens of 60'S and 70'S defiance and my past that I read Fraternity. Brady's crisp, journalistic writing style beautifully tells the story of 5 of the 20 African American men Fr. John Brooks recruited to the College of Holy Cross in the late 1960's. He believed these young African American men had the potential to succeed if given the opportunity. Fr. Brooks took a personal interest in not only their education, but their personal lives. He "mentored, defended, coached, and befriended them through an often challenging four years of college, pushing them to reach for goals that would sustain them as adults". Fr. Brooks, who eventually would become a beloved president of the college, was often challenged by his peers, alumni and the community for taking on such a "risk". The financial risk alone was staggering – as these new recruits were offered full scholarships. It was a pivotal time for the college and things did not always go smoothly. But Fr. Brooks held fast to his ideals and never wavered in his support of these young men.
But what really drew me into this book was the story about the men themselves. Do you remember your first day of college? Scary, right? The first in their families to attend college, these men had the courage to enter a world very different from their own. The College of Holy Cross was, "white, [JESUIT] and all male," with high academic standards and high expectations. Far from home, out of their own comfort zones, they entered a world that was hardly putting out the welcome mat. They were challenged but not deterred. They formed their bonds, worked hard, and persevered. They blazed a trail that others would follow. And each followed a passion that lead them to make a difference; a difference that continues to this day.
Did they know that their pursuit of a good education and a better life for their families would in effect play a role in changing society? Their time at CHC put them in the spotlight; they were challenged to reach their potential and make a difference. They continue to follow a path that brings light to MLK's dream that men be judged by their character and not the color of their skin.
Now 40 years later, I am inspired by these brave men. I am awed by their courage and steadfastness. Read the book. It's not too late to be inspired to make a difference. We still have a lot of work to do.
Tickets are still available for the 15th Annual African American Literary Celebration on Friday, January 18th featuring Fraternity author, Diane Brady and Holy Cross alumni Eddie Jenkins. Purchase your tickets here!