I have previously worked in the library, but this experience as a Learning Ambassador has been very different. 
I have been coming to The Field Library for many years. I grew up involved in many of the programs – story times, crafts, and other special programs – so I know what it's like to be one of the kids. Then I became a volunteer.  I helped with the summer reading games and volunteered regularly on Thursdays. That volunteering evolved into paid work.  I worked to support the Saturday crafts programs and would sometimes work other days as a library page – that's the person who puts the books away in proper order so you can find them again!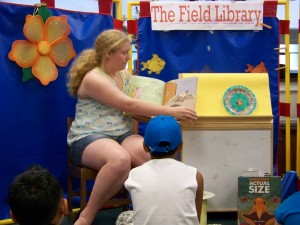 Then I had the opportunity to become a Learning Ambassador. Even though I was familiar with library programs, I have never done anything like this. This is so hands on:  I can choose the books and crafts and then design my own program! This experience has been really great.   I have done so many things that I could not have previously done in the library. It has been rewarding seeing the children pleased with something that I have designed for them to do from start to finish. 
Working in the library has been great it has given me so many new experiences and skills that I know will help me in the future. 
~Pamela from The Field Library in Peekskill
To learn more about WLS' Learning Ambassador Program, please click here.