Westchester Library System's 23rd Annual Book & Author Luncheon
Features Outstanding Authors
Adam Kintish of TD Bank Receives the National Library Week Recognition Award
Westchester County, NY (March 6, 2014) – The Westchester Library System (WLS) will hold its 23rd annual Book & Author Luncheon on Friday, April 11th at CV Rich Mansion in White Plains, NY. Sponsored by Entergy and TD Bank, the event celebrates National Library Week and the theme Lives Change @ Your Library.  The luncheon features talented authors Josh Hanagarne, a librarian and Randy Lewis, former senior executive of Walgreens who write about turning points that have changed their lives.
The National Library Week Recognition Award will be presented to Adam Kintish, Senior Vice President, TD Bank for the bank's local and national initiatives that support literacy and summer reading.
"We are thrilled to host our annual Book & Author Luncheon, a highlight of Westchester Library System's National Library Week festivities.  Once again, we have an outstanding lineup of authors who are gracious to share their time and talent with us," said Terry Kirchner, WLS Executive Director. "We appreciate the continued support of our sponsors, Entergy and TD Bank.  They have helped WLS provide the resources to empower Westchester libraries to touch the lives of people from all walks of life."
The Luncheon, held from 12:00pm – 2:00pm, will be followed by an author signing. Registration begins at 11:30 am. Ticket prices for the Book & Author Luncheon are $95 for general admission. Proceeds from this event will support WLS's community outreach programs that ensure open access to resources and information in Westchester's public libraries. For more information or to purchase tickets, please call (914) 231-3241 or visit www.westchesterlibraries.org
The authors' books, available for purchase and autographing at the event, include: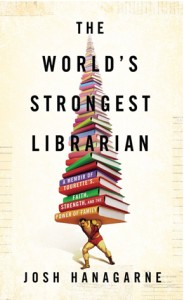 The World's Strongest Librarian (Josh Hanagarne)
Josh Hanagarne fell in love with Fern from Charlotte's Web at the age of six. Every day since, he has enjoyed reading more than eating, sleeping, and breathing. Today the 6'7″ Hanagarne is an author, speaker, performing strongman, and, despite having an extreme case of Tourette Syndrome, he works as a public librarian in Salt Lake City Utah. His memoir, The World's Strongest Librarian, is his first book.
No Greatness Without Goodness (Randy Lewis)
Randy Lewis bet his career that he could create an inclusive
workplace at one of America's biggest corporations where people with disabilities could not just succeed, but thrive. No Greatness Without Goodness is the powerful story of a corporate executive who, after watching the world through the eyes of his own child with autism, Austin, realized that we all have a greater responsibility to make the world a better place for everyone, including those with disabilities. As the Senior Vice President of Walgreens, Randy Lewis has created thousands of full-time jobs for people with disabilities.
Please click HERE for more information or to register for this event.
The Westchester Library System is located at 540 White Plains Road, Suite 200, Tarrytown, NY 10591. For a complete list of programs and events throughout the Westchester Library System, visit the WLS website at www.westchesterlibraries.org.
About the Westchester Library System
The mission of the Westchester Library System is to ensure that all residents have seamless access to excellent library service throughout Westchester County. The Westchester Library System serves as a center of innovation for the Westchester County library community. WLS provides model programs, affordable and easy-to-use information technology, and support services that enable libraries to continuously improve service to their communities. For more information, please visit www.westchesterlibraries.org.